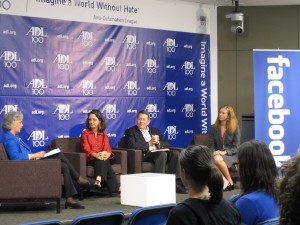 On October 2nd, the Anti-Defamation League held the latest installment of their Centennial Civil Rights Series, a panel discussion entitled "Free Speech, Civility, and the Challenge of Cyberhate."  The program was hosted by Facebook and was streamed live around the world on the "Facebook Talks Live" page.  It focused on the spread of hate and bigotry on the Internet and how both the industry and user communities can respond to the challenge. 
The discussion was moderated by Deborah Lauter, ADL National Director of Civil Rights. Panelists included:
Monika Bickert, Global Policy Manager at Facebook 
Susan Benesch, Faculty Associate at Harvard University's Berkman Center for Internet and Society and founder and director of the MacArthur Foundation project "Dangerous Speech on the Road to Mass Violence"
Christopher Wolf, partner at Hogan Lovells LLP, Chair of ADL's National Civil Rights Committee, and the co-author with ADL National Director Abraham H. Foxman of the book "Viral Hate"
To watch a recording of the event that was streamed live, please visit https://talks.facebooklive.com/live 
To read more about this event in the news, please visit the Examiner.
The Anti-Defamation League, founded in 1913, is the world's leading organization fighting anti-Semitism through programs and services that counteract hatred, prejudice and bigotry.