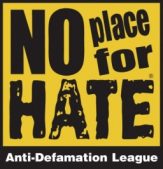 No Place for Hate
The Anti-Defamation League (ADL) is one of the nation's leading civil rights and human relations organizations. No Place for Hate® is one of ADL's signature education initiatives.
What is No Place for Hate®?
No Place for Hate is an organizing framework for K-12 schools committed to creating sustainable change that leads to improved school climate. Participating schools are able to incorporate ADL's anti-bias and anti-bullying resources with their existing programming to form one powerful message that all students have a place to belong.  Over 1,700 schools across the country were designated No Place for Hate in the 2015-2016 school year.
What is the Goal of No Place for Hate?
The goal of No Place for Hate is to inspire a national movement led by students and educators who are committed to using the power of positive peer influence to build inclusive and safe schools in which all students can thrive.
How Do I Sign Up?
If you are new to No Place for Hate and would like to register your school, please fill out this Readiness Questionnaire and Jacqueline Regev, Director of Education, will be in contact with you shortly.
How do Schools Become No Place for Hate?
There are four steps to becoming a No Place for Hate school:
This year's registration deadline is October 14, 2016.
Create a No Place for Hate Coalition
This student-led coalition is responsible for identifying bias and bullying issues in the school, developing measurable goals to address these issues, and coordinating and overseeing the implementation of anti-bias and diversity activities throughout the year designed to achieve those goals. This coalition should include students, staff, administrators, and family members that reflect the diversity of the school community.
Sign the No Place for Hate Resolution of Respect
All members of the school community must commit to the goal of No Place for Hate by signing the Resolution of Respect.
Complete at least 3 Activities
Each student must have an opportunity to participate in three ADL approved activities that address bias and bullying through discussion, active learning, and a follow-up action plan.
Schools that complete these four steps receive a customized banner designating their school No Place for Hate!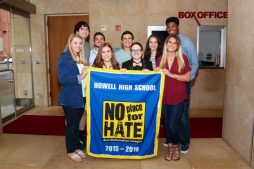 Is Your School Already No Place for Hate?
If your school was designated a No Place for Hate school within the last two years, please contact Jacqueline Regev at jregev@adl.org for information on how to register for the 2016-2017 school year.
Listing of Regional 2015-2016 No Place for Hate Schools
Edward M. Downer Elementary School
Fairmont Elementary
Grant Elementary School
Hanna Ranch Elementary School
Harriet Eddy Middle School
Hercules High School
Highland Elementary
Laguna Creek High School
Lake Elementary
Lincoln Elementary
Lovonya DeJean Middle School
Madera Elementary School
Melia Elementary School
Mira Vista K-8
Montalvin Manor Elementary School
Ohlone Elementary
O'Linda Elementary School
Pinole Valley Middle School
Riverside Elementary School
Shannon Elementary
Sheldon elementary
Stewart K-8 School
Stuart Hall High School
Sylvester Greenwood Academy
Tara Hills Elementary School
Terra Linda High School
Tierra Linda Middle School
Valley View Elementary
Verde Elementary
Windsor High School
Woodrow Wilson Elementary
YMCA of San Francisco Association Office