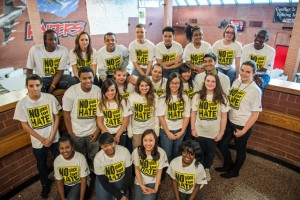 The Anti-Defamation League (ADL) is one of the nation's leading civil rights and human relations organizations. No Place for Hate® is one of ADL's signature education initiatives.
What is No Place for Hate®?
No Place for Hate is an organizing framework for K-12 schools committed to creating sustainable change that leads to improved school climate. Participating schools are able to incorporate ADL's anti-bias and anti-bullying resources with their existing programming to form one powerful message that all students have a place to belong.
What is the Goal of No Place for Hate?
The goal of No Place for Hate is to inspire a national movement led by students and educators who are committed to using the power of positive peer influence to build inclusive and safe schools in which all students can thrive.
Watch a video message of support from Seth Meyers of NBC's Late Night with Seth Meyers!
2019 – 2020 Bay Area No Place for Hate Districts and Schools
Alameda Unified School District
Alameda Science & Technology Institute
Island High School
Otis Elementary
Will C. Wood Middle School  
Castro Valley Unified School District
Independent Elementary 
Independent
The College Preparatory School, Oakland
Convent – Stuart Hall High School, San Francisco
Contra Costa Jewish Day School, Lafayette
Miller Creek School District 
Miller Creek Middle School
Orinda Union School District
Glorietta Elementary School
Del Rey Elementary
Orinda Intermediate School
Sleepy Hollow Elementary
Wagner Ranch Elementary 
Piedmont Unified School District
Millennium High School
Piedmont Middle School
Piedmont High School 
San Lorenzo Unified School District
Arroyo High School 
San Ramon Valley Unified School District
Bollinger Canyon Elementary
California High School
Charlotte Wood Middle School
Country Club Elementary
Dougherty Valley High School
Gale Ranch Middle School
Greenbrook Elementary
Hidden Hills Elementary
John Baldwin Elementary
Live Oak Elementary
Los Cerros Middle School
Montevideo Elementary 
Rancho Romero Elementary
San Ramon Valley High School
Stone Valley Middle School
Twin Creeks Elementary
West Contra Costa Unified School District
Grant Elementary 
Lincoln Elementary 
Olinda Elementary
Tara Hills Elementary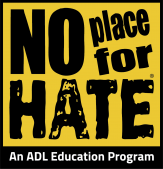 No Place for Hate is underwritten through generous support from the Graham Family Foundation, in memory of Victor and Olga Graham, Linda and Eric Horodas, Beverly and Jay Ripps and the V.O. Smith Family Foundation.